A new version to Gwen's song! 😉 I usually buy about 8-10 bananas every time I shop. They go pretty quickly at my house. But it's a general rule if you see 2 or 3 bananas left you leave them alone. You let them get ugly and brown cause that means Mom will make banana bread. My family LOVES banana bread. It maybe last 2 days!
So I make it often. I started off using a yum recipe from Paula Deen. As you can see this page is well loved. I honestly think that is a dried piece of banana!! But over time I have created my own recipe.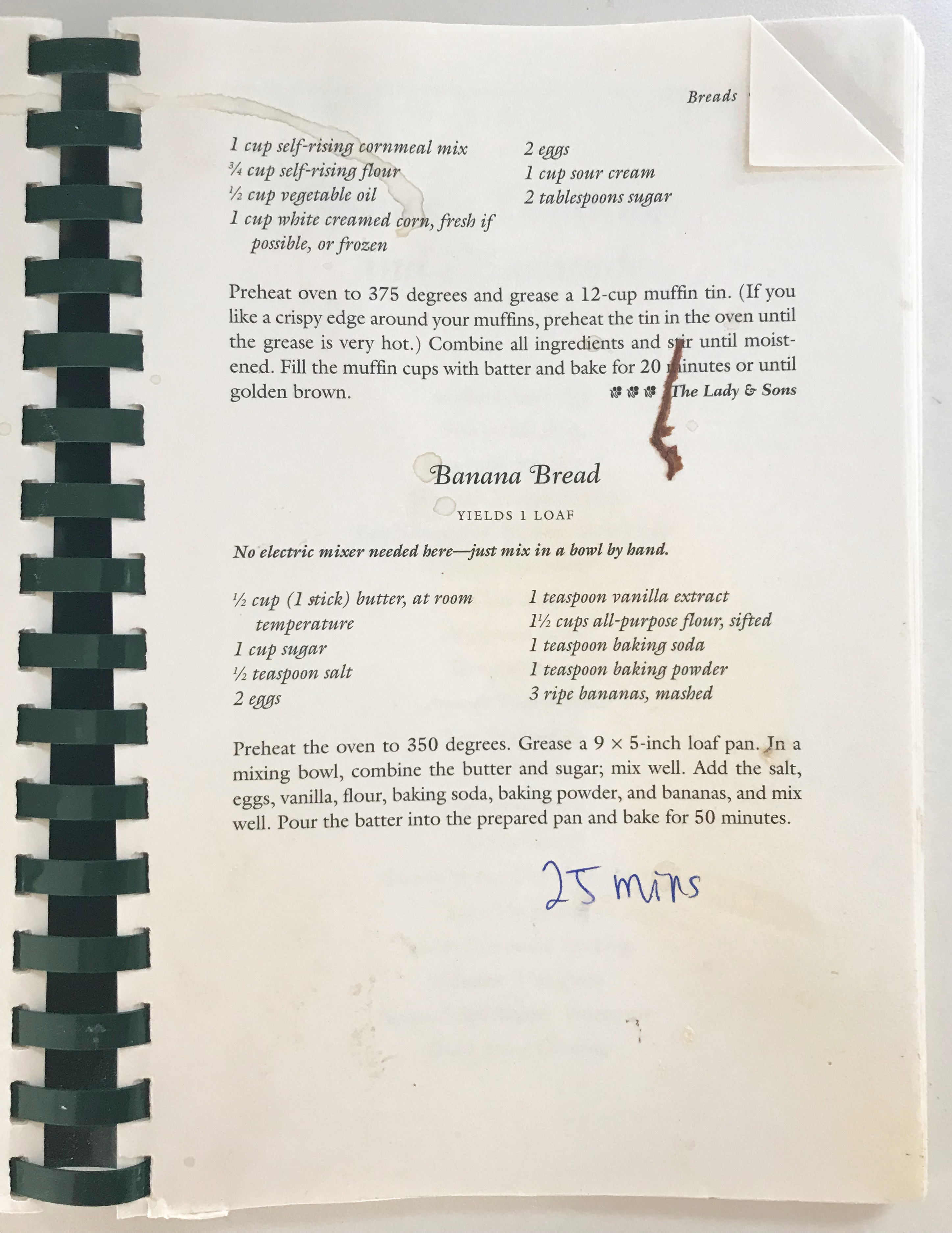 I start off using this exact recipe. However, I've added in a few extras. I only use two bananas. For me, using three just makes it a little too "banana-y". I also add in cinnamon and my secret ingredient, Maple Extract. It adds such a yummy flavor and goes great with the cinnamon. I also bake it in a bundt cake pan. So much prettier and it cuts the cook time way down.
Here is my recipe:
1 stick of butter, at room temperature
1 cup of sugar
1/2 teaspoon of salt
2 eggs
1 teaspoon vanilla extract
1 teaspoon maple extract
1 1/2 cups all-purpose flour
1 teaspoon baking soda
1 teaspoon baking powder
1/2 teaspoon cinnamon
2 ripe bananas, mashed
Bake it at 350 degree for 25 minutes. If you choose to use three bananas you might need to adjust the time a bit. Maybe add 3-5 minutes. I have also used whole wheat flour and it tastes just as good. I like to use a potato smasher to mash mine up. I don't like the large bites of banana. I am really wanting to try a gluten-free version but that will require A LOT more research and bananas!
After your timer goes off you will have a perfectly golden brown banana bread bundt! Not only is it tasty, it is oh so pretty!!
I've also included a recipe card to download!
Banana Bread Recipe Card: PDF
Happy Eating!
XOXO,
Ivy